Even if the Dutchman Tim Zom embodies the typical streethustler, the thing that pushed his skateboarding the most, were contests. Contests and riding bikes. Such a bike ride to the woman, that is now his wife, got him out of some hoodrat-trouble and back on his skateboard. Now he is leading a satisfied life and the only G's in it are the Homies from the Ben G Shop. Pretty much a drama with happy end and therefore perfect movie material. Because of that, the documentation "Zombie" was filmed to portrait his life. We wanted to know more about all that and had an extraordinary talk with Tim on the phone.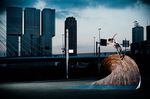 Backside Sugarcane
[Interview: Stefan Schwinghammer | Portrait: Davy van Laere; Foto: Hendrik Herzmann]
Hey Tim, you just got back from the Simple Session in Tallin. How was it?
It was super fun. It was a big course as always, where you could fly around, which is super funny to do.
Are you trying to do a lot of contests? What do they mean to you personally?
Contests are all about meeting good friends from all over the world. The other thing is, that it's just super fun. You are able to see new countries and get to know different cultures. It's not like you get to do that every day. But this year I'm not planning on doing so many contest. I want to do more film- and phototrips.
Didn't you get on Nike through skating contests as well?
Yeah, I was on the flowteam and just got a couple of shoes from Nike and I knew the teammanager (Kaspar van Lierop) from skating with him. Then there was a contest in Rotterdam and I was just joking around like: "If I win, will I be on the team?" And the TM just laughed and said: "Yeah, yeah, of course!" We were really just joking in the beginning, but then I did win the contest and I went over to him going like: "Yeah, I'm on the team!" He just told me if I really wanted to, I could get on the Team. I was super stoked.
I can't change what happened. I just have to make something positive out of it
And how did you get on Skate Mental?
There is this Skateshop in Amsterdam called Ben G and the guys there knew Brad Staba, the owner of Skate Mental. I heard he saw me riding and that he was interested in putting me on the team, but first he wanted to see something from me, so I had to film a part. And then the part was so good, that they put it on the Thrasher site. That was super good for me and helped me to get on Skate Mental.
Do you hang out with the Skate Mental guys a lot, when your in the US?
Two years ago I went there several times. Last year I was busy and I really hope to go this year again.
Thrasher wrote under your part: "Tim Zom is the kinda guy who goes to jail, gets out, and immediately jumps down some gnarly shit." What do you think about that image?
I don't know and I don't really care either. That was all back in the days. When the people see me nowdays they know I'm different. Not different in some crazy way, but different in a good way. I don't care, but I guess that this will haunt me for the rest of my life. I can't change what happened. I just have to make something positive out of it.
You grew up in a rough part of Rotterdam. How did you get in contact with skateboarding there?
When I was ten, I saw some kids skating in the neighborhood and there was a miniramp like 30 minutes away from my house. One of my friends was living over there and everytime I visited him I went past the skatepark. I always saw people skate and one day I just asked if I can try out a board and they were super cool and told me that I could skate if I want. When I turned eleven my mother got me a skateboard for my birthday. Now I had my own skateboard and I could skate when and where I wanted. I just kept on skating till I met a couple of wrong people when I was 15. With those guys I hung out some time. Then I got back to skateboarding and learned how to have fun again.
What got you hooked on skateboarding when you were a kid?
The adrenalin! To land a trick makes you so happy. And you do it again and again and again and then you learn a new trick. It's just like floating on gravity.
You can rest when you are dead
Your skating is pretty powerful. Is it an outlet for you?
For sure, if I feel agressive or woke up on the wrong side of the bed I feel like I have to skate that day. Just catch some fresh air, ride on with the wind going through your hair, just being active and don't sit at home all day. You can rest when you are dead.
You said that you stopped skating for some time, because you met the wrong people. What was going on in that time?
I did some crazy stuff, that I don't really want to talk about. If you watch the movie you will see enough. Then I found my wife and went into the city a lot again, because she lived there. So I had to bike to the city the whole time and when I passed the skatepark I saw all my old friends there and we started hanging out there. After that, everytime I went to my girlfriends house, I grabbed my board and I was really happy again.
What do think where would you be today without skateboarding?
I don't know, I don't have a magic glass ball that could tell me that, but my life wouldn't be as interesting as it is today.
What in life is the most important to you?
My skateboard, my wife and my dog. Also friends and positive vibes. Just living a positive life I guess.
Lets talk about the movie. What did you think, when Billy (Pols) told you about the project?
At first, I wasn't really interested in it, but then I thought about it for a while and thought, fuck it, why not?
Wasn't it weird, to be followed by a videocamera for a year?
Being filmed when skating is really different for sure. There you get out the camera, when your warmed up and ready to skate, but this is like: They came to my house and started filming and just didn't stop all day. At one point I didn't really wanted to be filmed anymore, but I thought about the whole project and when you say A, you have to say B, too. So we just went on and now the movie is done.
How was it to see your family and friends talk about you?
Ah, I thought it was really funny. At least I didn't have to talk as much. I don't really like to talk about myself.
Do you like how the film turned out at the end?
Yeah, I really do. There were a lot of positive reactions, also from friends that know me well and even they said, that they now know some stuff they didn't know before. I think Billy made his point and reached what he wanted.
Last question: You got a lot of street knowledge by now. What's the best advice you could give?
Just always be yourself! When you meet new people and you can't stand them, just tell them and if you're having fun, tell them, too. Then people know who you are. Just be yourself.