Do it yourself is the engine of skateboarding no matter what it's about. Ian Michna, for example, was unsatisfied with interviews in skateboard magazines and wanted to do a better job. Thanks to the internet he was able to start his own portal for just $4.99 a month. "Jenkem Magazine" has developed into one of the most opinionated mouthpieces in the skateboarding world. We have interviewed Ian on this subject – hopefully to his satisfaction.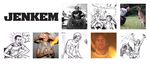 [Interview: Niklas Isenberg | Illustrations: Lauren Kolesinskas, Michael Giurato]
An Interview with the Interviewer – Ian Michna on Jenkem Magazine
Hi Ian. Do you make a living from doing Jenkem?
Yes.
What made you start it and from where are you operating this ship?
It started in 2011 and we are working on Jenkem out of Brooklyn, NY – but we work with everyone from all over the world and outside of the USA. It basically started because I had a desire to read and learn more about skateboarding than what the magazines were giving me at the time. The photos were good, as always, but you would read a mag, and sit there and afterwards just think, what the hell was I reading? Most of the interviews were really short and didn't have a lot of meat, asking riders about cliche things like their first board, or how hard it was to do some trick, or "what are you up to?" which to me is boring. I wanted to see an interview which tells the story about the skateboarder, or critical essays or thought pieces about skating and the industry. Stuff you might read more in a music magazine, or a political magazine. So I decided if they weren't going to give it to me I was going to try and find those answers myself and do it myself, which slowly evolved into a website and then into a magazine so I could document the answers I was getting and share them with other people. Now we have an awesome amount of writers and freelancers, and even a ton of original video now, and I continue to do most of the interviews. I'm very happy, I wouldn't want to be doing anything else right now.
What started as an obstacle actually became an advantage later down the road, as we are growing online while monthly magazines continue to look more like CCS catalogs
Why did you choose to do a website over a print mag?
Well lets see… pay $4.99 a month to start a website, or magically find a couple of thousand dollars and try and print one issue of a magazine. What would you do? Unless you do a zine and start making photocopies at your library or school, it's gonna cost you. Even if you make something physical, you still have to pay for shipping costs and packaging costs, and then actually getting the copies out there into people's hands. What started as an obstacle (not having money to print anything) actually became an advantage later down the road, as we are growing online while monthly magazines continue to die and look more like CCS catalogs.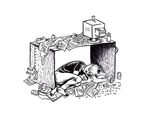 How did you get your first interviews without having a name?
I got interviews any single way I could, asking in person at contests like Tampa and Maloof, at bars/industry parties, cold e-mailing, cold facebooking, asking people I interviewed for more contacts or advice… I mean in the beginning I would just scattershot and ask a ton of people – anyone really – and then if one or two got back, I had some interviews. Just gotta put yourself out there and be prepared to get a lot of nos and rejection before you start getting a lot of yes'. Most skaters are actually pretty open and cool about being interviewed too, at least at the time. Eventually it worked out and once I had a couple of solid interviews under my belt it became easier, and as Jenkem grew of course it all came together.
How international is your readership?
50% US – 50% Outside of the USA.
Did you have any offers from media companies since you're getting more successful with Jenkem?
Yes, we have had a lot of private offers from friends and industry folk that have wanted to invest in the magazine, as well as talks with other media companies, you probably would be familiar with, that wanted us to join their networks or sites. We're in no rush to do anything and so far the offers haven't been good fits for our mag, but I'm always open to talk and toss around ideas. I guess we'll hold out for Donald Trump.
The most interesting part of skateboarding to me isn't actually the skateboarding itself – it's the people in it
Jenkem doesn't seem to present a lot of skateboarding but mostly the stories and funny shit behind it. Why do you chose this approach?
Honestly, because the most interesting part of skateboarding to me isn't actually the skateboarding itself – it's the people in it. I don't really even watch that much actual skating. I don't go on Hellaclips everyday or consume all skate media. I try to do it all in moderation to not get jaded by it all too. Skateboarders have such strong personalities and different funny quirks which is really what makes it interesting to me. I like people and I like hearing everyone's story, which is why I think our interviews turn out differently than other outlets. I try to not talk about skateboarding in them, because I want to get to know the person for who they really are, not what size wheels they skate.
Are magazines like Thrasher in the US, Kingpin in Europe or us in Germany still needed nowadays?
Of course. Thrasher is Thrasher. Transworld is Transworld. These magazines are the cornerstone of skateboarding and are pillars of skateboard culture. Without them we would lose pieces of our culture. Personally for me, Jenkem started because I just felt like there wasn't a voice for a skateboarder like myself. I'm not a tattooed, beer guzzling, rail/pool-skater, mindlessly screaming "skate or die", and Transworld was always too safe for me. I also had a hunger for the written word of skateboarding that was not being fulfilled by those magazines at the time. The interviews were mostly advertorial, boring, "how ya doin", "where are you from?" type features and there weren't many critical or thoughtful pieces at the time. It bummed me out, and so I decided I would just do it myself. I would investigate and write about stuff I wish was available and wanted to read. If you can't find something you are interested in, or think it's missing, do it yourself. Because, if you have a passion and interest in it, others will too. Promise.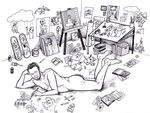 How long does it take to get an interview like Pappalardo's or Marc Johnson's? Do you have a no-e-mail-interview-policy?
It takes a long time for me. Maybe it wouldn't take everyone a long time, but for me and my paranoia when it comes to interviews, it usually takes a couple hours over a couple of days. I should probably clock in sometime how long this stuff actually takes. I do not have a "no email policy" – a lot of people have thought this. I actually have gotten a lot of people asking me how I conduct the interviews, and to be honest, I do both. It depends on the interviewee. If the skater feels more comfortable with e-mail and can spell is name/is literate/can spit out some interesting answers, I'll do it. If he's bad on email and writes one word answers, I'll try to push him to the phone. You have to know the person and try and understand the best way they can express themselves and try to make them comfortable enough to do it. It's always a joint effort from both parties.
Have there been any pros who ducked out after the interview or even before?
You'd be surprised, we haven't really had anyone "duck out" out of an interview, the only thing that happens sometimes is that they get too busy or I get too busy and it just never happens, because of life circumstances. Actually, I get a lot of people approaching me to do interviews, I think the skaters like it that they have a free, uncensored platform to speak, which will reach a passionate audience, because the other mags won't feature them or don't have space or if they do an interview, it's much more safe or boring to keep advertisers happy.
It seems like a lot of people think we are just out to publish stuff that is "shocking" or going to "piss people off" but that's not really what I'm going for
Has there been an interview too crazy to publish?
It seems like a lot of people think we are just out to publish stuff that is "shocking" or going to "piss people off" but that's not really what I'm going for or interests me. My motivation is to find answers to questions I've always had about skateboarding and the skateboard industry, that's pretty much it. Compelling stories, "shocking" people – these come along as a byproduct of trying to get closest to "the truth" in any article or interview I think.
Which one was the most memorable for you?
Each of the interviews is memorable in their own way, but one I remember pretty well is one I did with Brian Wenning at the beginning of Jenkem, and he called me up one or two times, and he was super drunk, and was saying all sorts of stuff, hating on skating, barely coherent, I think he just got out of jail at that point for something. Then he called back the next morning and left me a voicemail and like 5 text messages asking, if I could delete the interview. I was hesitant at first, but I actually did delete the audio file to pay respect to him, and the interview was so mumbled anyway you couldn't understand much, but that one was definitely an experience. Thinking about it now, it would have been cool to keep that audio file for a couple of years, and then released it down the line "the wasted interview with brian wenning". On a side note, whenever I'm working on an interview and if I start questioning it is "too real" or it starts to make me feel uncomfortable or I start to second guess it, that's the moment when I feel like I got something worth putting out there. The moment when I feel vulnerable and start to think maybe I went too far on this one. That's when I feel like I'm giving something new and different and hitting the sweet spot. Not every interview will be like that of course, because it depends on the skater and their story and how much they want to share, but the ones that people really enjoy usually have a bit of that in there.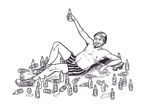 What's your favorite skateboard mag and website beside Jenkem?
I thought when Skateboarder was still around out of all the mags it had the best written content. If I'm on the internet I'm usually working on Jenkem or trying to find good music mixes to work on Jenkem on. Usually I can't write or edit with lyrics in a song so I mostly listen to electronic music – mostly Ambient or Techno or Drum and Bass while I'm working. I'll be listening to a lot of Boiler Room mixes and youtube'ing golden age DNB mixes from like 1995 – 2001. Metalheadz, Virus, Ram, Reinforced – If you have any good recommendations send them over to me! Always looking for new stuff to listen to in the background. Write Submissions @Jenkemmag.com with any mix recommends.
Do you think in 10 or 20 years there will be as many skateboard icons as in the 90s or 00s?
Yes, they will just be different types of icons – instead of being viewed like skate culture rockstars (Penny, Muska) who are known for their partying, style, drug usage, coolness, epic stories, recklessness and skating, they will be more like sports icons. The future skate icons will be remembered and looked back on more like a Lebron or Jordan. Future skate icons will be more known for being the most 'dominating skater in street league history' or for the most contest wins ever. Their history and iconic status will be more based on "accomplishments" and ways to rank them. For instance, Tony Hawk is still known as "the guy who did the 900" to everyone outside of skating. So all these future skateboard icons will have a tagline and be remembered for a signature like that for which they are known for which will give them iconic status to the outside world. Example: highest trick score average, most 9 club tricks in Streeleague, youngest to do El Toro, most video parts in history, first to win street league gold twice in a row, etc..
Can you imagine doing a Jenkem Dunk like Quartersnacks did?
Yes, I can imagine doing all sorts of cool collabos with companies. We are actually working on a few right now on the low and working on our own shirts, hats and clothing now.
Last question: Was Zach really on acid when he went to the street league final?
Yes, of course – I would never lie or fake something like this. I want to be as honest and open with our audience at all times, so if it was fake or didn't work out or something went wrong, I would share that with you.
Thanks for the interview, Ian.