http://mpora.com/videos/e39WaNgM8

Vans lud ein und alle kamen, aber wer sollte auch nein sagen? Immerhin war eine riesige Miniramp direkt am Strand des italienischen Örtchens Varazze angekündigt. Also surften bei bestem Sommerwetter Fahrer wie Ross McGouran, Ferit Batir, Josh Young und Ben Grove in der hölzernen Welle vor den Wellen. Sozusagen als Schirmherr kam sogar Jeff Grosso über den großen Teich geflogen, den wir uns bei dieser Gelegenheit für ein ausführliches Interview schnappten.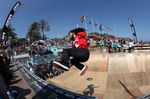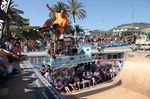 Ergebnisse:
• The Air Freshener (Most Original tricks): David Sanchez (Spain)
• The Condor (Highest Air): Diego Doural (Spain)
• The Smooth Operator (Best Style): Josh Young (UK)
• The Surgeon & The Toe Mixer (Best technical rider & Best Switch trick/ Ride): Trevor Johnson (UK)
• The Bingo Winner (Luckiest move): Dani Leon (Spain)
• The Punisher & The Good Ol'Boy (Gnarliest trick/ride & Best oldskool tricks/ride: Greg Nowik (UK)
• The Easy Rider (Longest Rock or Lipslide): John Magnusson (Sweden)
• The Line Executor (Best line/combo): Julien Benoliel (France)
• The Innovator Best use of the ramp: Ross McGouran (UK)
• The Wheelchair Masters (Worst slam): Jake Collins & Sam Beckett (UK)
• The Cruising Gentlemen (Best attitude): Fernando Bramsmark (Sweden)
• The Tsunami (Overall best rider of the Weekend): Daan Vanderlinden (Holland)
• The Unlucky Friend (Last of Finals): Kris Vile (UK)
Neben der Miniramp gab es auch noch einen Best Trick Contest an einem Stufenset samt Rail und Hubba, bei dem sich Tobias Fleischer (Fs Feeble und Fs Tail 270), Filippo Baronello (Finger Flip, Tre Flip und 50/50), Fernando Bramsmark (Nosegrind an der Hubba, Bs Ollie Switch 50/50 und Fs Nosegrind) und Steffen Austenheim (Biggie Boardslide am Rail) die 2000€ Siegprämie teilten.